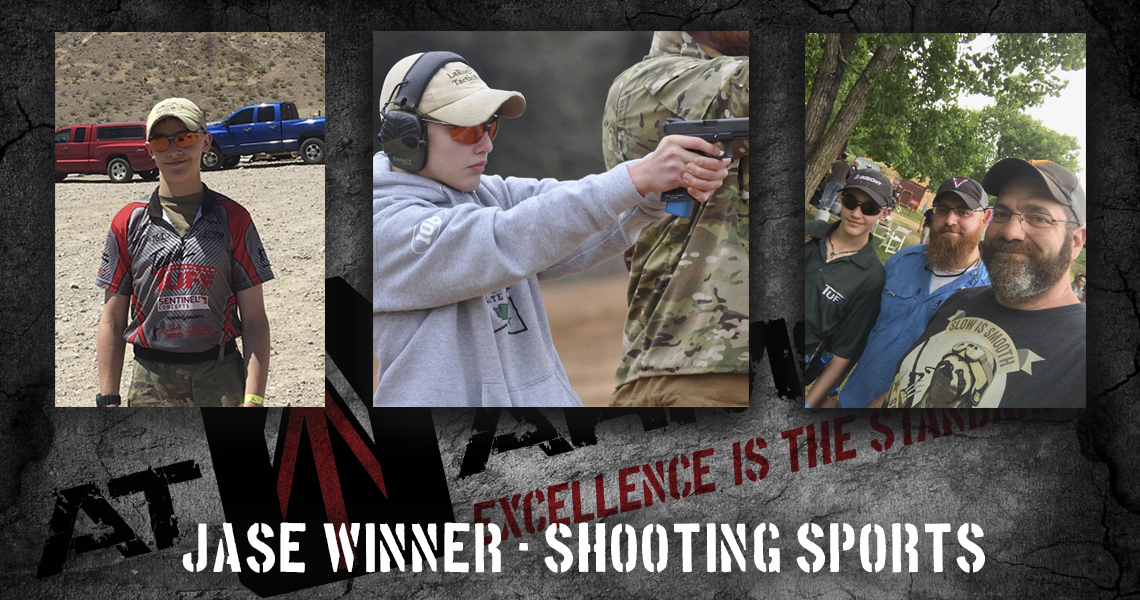 Meet Jase Winner - a competitive shooter in both 3-Gun and USPSA and writer for GAT Daily who has already trained with a plethora of outstanding firearms and tactics trainers by the age of 15.


In his words: "Welcome to my little corner of the Internet. This page is all about me and my pursuit of being the best shooter I can be in 3Gun, USPSA and in the tactical training world. I'm 15 and a Sophomore. My school sports are Cross Country running and Wrestling (Varsity!). I also participate in 4H/ Know Your Government, Youth Leadership Spokane and the Boy Scouts of America where I am actively pursuing my Eagle Scout. In my spare time I enjoy hanging out with friends and family, refinishing old axes/ hatchets and long walks on the beach;) I also author articles for GAT Daily regarding youth in the competition and tactical training world."
"I started competing in shooting when I was 10 through 4H in both Trap and Skeet. I have been competing in USPSA and 3Gun since I was 13 and a sponsored shooter since 2016 when I was picked up to represent Team TUFF."
Jase Winner Shooting Sports Facebook Page


Highlights:
2017 - Attended MGM Juniors Camp in Parma, ID for Pistol & 3-Gun; Direct Action Response Training course with Kerry Davis / Dark Angel Medical.
2018 - Competed in USPSA Multigun Nationals in Las Vegas; attended inaugural 2018 Shooters Symposium in Texas, training with Steve Fisher / Sentinel Concepts, Chuck Pressburg / Press Check Consulting, Jared Reston / Reston Group, Dan Brokos / Lead Faucet Tactical, and Bill Blowers / Tap Rack Tactical; attended both pistol and carbine operators courses with Steve Fisher / Sentinel Concepts.


AT Armor fully approves and supports Jase in his plans to continue training and competing, and you can too! Visit his GoFundMe page or purchase a t-shirt to help encourage and contribute to his funding. And thank you!


Jase Winner Shooting Sports T-Shirts